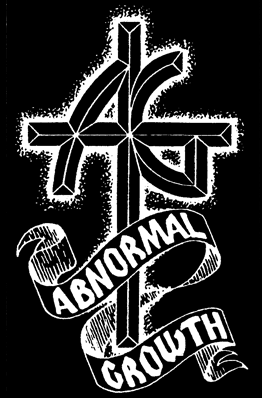 This album was recorded on a Tascam Porta-One four track in John's parents garage (Crowtown Studios One) and Mike's grandparent's storage shed (Crowtown Studios Two) from November 1986 - July 1987. The album was originally released on March 9th, 1987 with a white cover and black cross. The band decided to re-record a few of the tracks after Billy joined the band and re-released the album with a black cover and white cross. All the cassettes, lyric sheets, cassette labels, and j-cards were duplicated, hand cut, and folded by Clay. John did the majority of the duplication thus totally wearing down Robert's dubbing cassette deck in the process. Also, each cassette was individually numbered.
The band had not performed live prior to releasing the album. In fact, Abnormal Growth as a three piece unit performed at the Montgomery High School Talent Show with Mike on drums, Clay on vocals and John on guitar. The first "Official" show occurred on 10/31/1987 at some backyard party in Healdsburg.
Note: John was a pretty good guitar player already and had some songwriting experience under his belt when Clay met him. Clay on the other hand had never written a song or played an instrument in his life. Even though he still can't sing, Clay did manage to learn guitar and drums enough to fake it. Good thing John knew what he was doing.
Second Note: Much like "Plague Swept Through the Commune" on "Let's grow Some Crosses", "70's Song" was completely improvised and recorded in one take. John was playing with a riff and Clay noted it sounded like the 70's. That was good enough to go with and they gathered around the mics and hit the record button. After running out of things to say, yet still feeling the song was not done yet, Clay noticed a harmonica on the speaker cabinet and picked it up. He had never played a harmonica before which turned out to be a blessing. On subsequent takes Clay's harmonica solo just got worse and worse. Little wonder since he didn't know how to play harmonica in the first place. Figuring they'll never top the first improvised take, John and Clay decided to put it on the album as is.

Album Title:

Abnormal Growth


Released:

1987

Label:

Crowtown
Download Whole Album
Download Complete Lyric Sheet